Click the image below to navigate the six-phase "plan overview" and other trail enhancement concepts.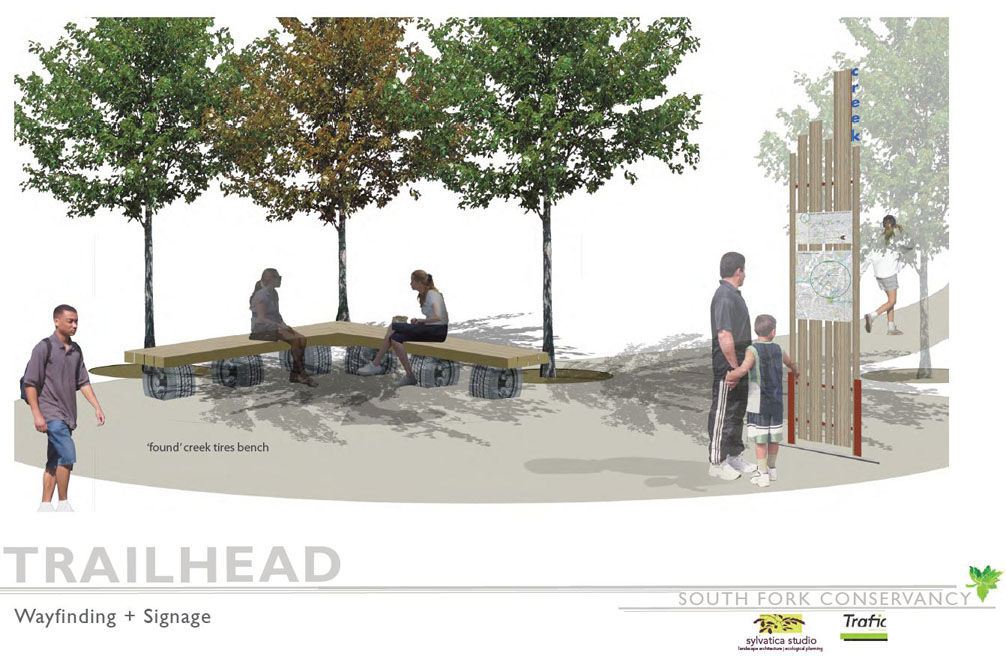 CONNECTING PEOPLE AND PLACES THROUGH A NATURAL CREEK & TRAIL EXPERIENCE
Long before Atlanta became a city, the South Fork of Peachtree Creek was an integral part of the lives of people along its banks. It gave its waters for drinking water, for grinding of corn, for baptismal waters. From its trickling headwaters to its confluence with the North Fork to form Peachtree Creek, the South Fork reveals a unique story of human settlement in Atlanta, from the Native American artifacts found in the corridor to the remains of Houston Mill near Emory to the torrential surges of stormwater that result from more recent urbanization.
Today, the South Fork of Peachtree Creek connects vast parts of central DeKalb County with the vibrant communities of northeast Atlanta. It connects greenspaces including Medlock Park, Zonolite Park, the Clyde Shepherd Nature Preserve and the historic Olmsted Linear Park along Ponce de Leon Avenue. It connects South Fork communities to a much larger greenspace network that includes the Atlanta BeltLine, Piedmont Park, Candler Park and Freedom Parkway. The creek connects institutions and cultural facilities including Emory University, Fernbank Museum of Natural History, the Veterans Administration Hospital, the Toco Hills Branch Library, and half a dozen schools. It connects major sites for revitalization and redevelopment including Emory Village, North DeKalb Mall, Sage Hill, and Lindbergh City Center. Most importantly, the South Fork connects people and their communities—a diverse connectivity that could be a model for many similar communities across the state.
While the South Fork of Peachtree Creek is a surprising connector of all these people and places, the creek itself is currently mostly inaccessible to those who live or work along its banks and practically invisible to the seven million people in the Atlanta metropolitan region. Suppressed by pavement, overburdened by record volumes of stormwater forced into culverts, polluted and ravaged by invading exotic plants like kudzu, the steep banks of the South Fork, its sandy beaches and stately canopy are hiding in plain sight. To repair the damage inflicted slowly over the last 150 years and to return this historic waterway to its rightful place as a respected asset of the region's natural resources, an inspired group of engaged neighbors began working for its restoration, conservation and protection. They formed the South Fork Conservancy. With a vision to restore and reconnect communities with their creek, the Conservancy has raised awareness, built trails, and forged strong community partnerships. Step by step, inch by inch, our vision is becoming a tangible reality.